The 24×7 Assessment DISC StylesTM is an analysis based on William Marston's DISC model that describes an individual's behaviour (natural style) and how she/he adapts to her/his environment (adapted style).
The colour model allows everyone to better understand their comfort and discomfort zone, to become aware of their strengths and weaknesses, to implement strategies for success, to adopt attitudes that meet the requirements of the environment, to develop their adaptability and flexibility, to better communicate with others, to increase their leadership.
Knowing your own behaviour and recognising that of others is an asset to boost individual and collective performance.
Our DISC Combination and Driving Forces offer enables behavioural assessments to be carried out on the following 3 levels:
THE DRIVING FORCES /MOTIVATORS
The DISC StylesTM can be combined with a Driving Force /Motivators Analysis. Based on the work of Eduard Spranger and Gordon Allport on values and motivations, the Driving Force Motivators Analysis allows everyone to understand what motivates them to act. Hence, this analysis allows a deeper understanding of an individual's behavioural patterns and thus becomes an excellent complement to a DISC analysis.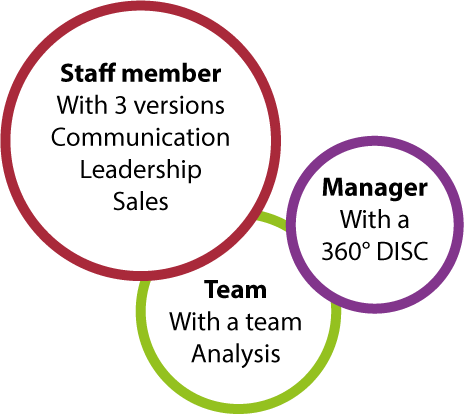 To help you select the right assessment tool we don't mind guiding you, feel free to contact us
Yes I want to buy an assessment now !